I've been running around like the proverbial chicken---you know, the one with her head cut off---for the last several days. Today, I'm trying to take it a little easier. And I'm really looking forward to our DN meal.
I've made all of these elements beofe and posted about them too. I can't be entirely original all the time and tonight I want familiar and comforting foods.
Here's tonight's lineup:
Appetizers
Bruschetta.

I bought these beautiful multi-colored grape and cherry tomatoes that are begging to be used as a topping for crostini.
Bruschetta with Tomato and Basil
Ingredients:
6 or 7 ripe plum tomatoes, diced

2 cloves garlic, minced

1/4 small red onion, chopped

1 tbsp extra virgin olive oil

olive oil spray

2 tbsp balsamic vinegar

6-8 fresh basil leaves, chopped

kosher salt

freshly ground black pepper to taste

16 oz baguette or French bread

1-2 garlic cloves, peeled
Directions:
Combine
tomatoes, chopped garlic, red onion, vinegar, oil, salt, pepper, and basil. Set aside.
Slice
bread into 1/2 inch thick slices. Place on a tray and
spray lightly
with olive oil.
Toast
bread under broiler, until golden, watching closely not to let it burn. When bread is toasted,
rub
each piece with whole garlic clove.
Place bread on a platter and
top with tomato mixture
. Serve immediately or the bread will become soggy. Makes approximately 26 small slices.
Obviously, I will be making some changes. I only have these little tomatoes. Being that I'm only cooking for 2 the vinegar and oil will be reduced as well.
Cocktails
Manhattans

.
Like I said, I've been running all week, and this is my "comfort" cocktail.
Dinner
Salisbury Steak
Ingredients
1lb extra lean ground beef (96% lean)

8 oz mushrooms, sliced

1 small onion, minced

1/3 cup whole wheat breadcrumbs

1 packet dry onion soup mix

2 cups fat free beef broth

1/4 cup liquid egg substitute

2 tbsp ketchup

2 tbsp Worcestershire sauce

2 tbsp whole wheat flour

1/2 tsp mustard powder

1/2 tsp black pepper
Instructions
In a medium sized bowl, combine ground beef, ½ of the onions, breadcrumbs, egg substitute, 1 tbsp Worcestershire sauce, onion soup mix and pepper.

Shape into 8 oval patties. Spray a large nonstick skillet with an olive oil mister or non-fat cooking spray and set over medium high heat. Brown both sides of patties, about 3-4 minutes each side.

Remove patties from pan, and then return pan to heat. Add in remaining onions and mushrooms, and 1 tbsp of the beef broth, and cook for about 2-3 minutes. Return the Salisbury steak patties to the pan.

In a small bowl, whisk together remaining beef broth, remaining Worcestershire sauce, ketchup, flour, and mustard powder.

Pour into skillet over the meat, turn heat down to medium-low, cover and cook for about 20 minutes.
I know, we've been down this road before. But it's soooo good. And I made meatloaf last night and made enough mashed for tonight too. So now you know one of the side dishes. We will also be having steamed broccoli. No recipes needed for either of these.
Dessert
Lemon Bars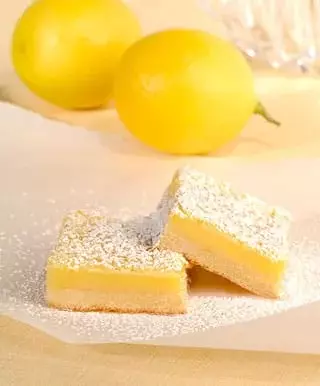 Ingredients:
- 1 1/3 cups all-purpose flour
- 5 tbsp packed light brown sugar
- 8 tbsp unsalted butter, cold, cut into 1/2-inch pieces
- 4 large eggs
- 1/2 tsp vanilla extract
- 1 1/2 cups powdered sugar, divided
- 3/4 cup fresh lemon juice
- 2 tsp lemon zest
Directions:
Preheat oven to 350°F.
To make crust, mix flour and light brown sugar using a food processor until fully incorporated. Toss butter into flour mixture and pulse to combine using short bursts of power until butter is cut into tiny pea-sized pieces and dough appears lumpy. Sprinkle crust mixture onto an ungreased 13 X 9 X 2-inch baking pan as evenly as possible; press down with a spatula to create a packed surface. Place crust in middle of oven and bake until golden, about 20 minutes.
Meanwhile, to make lemon topping, beat eggs in a medium bowl with an electric mixer until well blended. Add vanilla extract and 3/4 cup of powdered sugar; mix well. Add lemon juice and remaining powdered sugar; mix until powdered sugar is completely dissolved and then add zest.
As soon as crust is finished, remove from oven and reduce oven temperature to 300°F. Immediately pour lemon mixture over hot crust. Bake completely, about 30 minutes; cool, and cut into 24 bars. Yields 1 bar per serving.
Now I know I've posted this recipe before. And I make it a lot. They are just that good. 'Nuf said.
happy cooking