It seems I'm going Asian with dinner tonight. Well, except for dessert. I guess there's got to be an exception to everything, right?
Cocktails
I'll make Josh a gimlet. I'll be drinking cranberry juice, sparkling water and a squeeze of lime.
Appetizer
Lean Cuisine calls them "spring rolls." I call them cigars. Josh calls them yummy. You can call them whatever you'd like.
Dinner
Sweet and Sour Stir Fry Chicken Recipe – 4 Point Total
Sweet and Sour Chicken Recipe
Ingredients:
– 8 ounces boneless skinless chicken breasts
- 1 1/2 oz thinly sliced carrots
- 3 stalks green onions, chopped
- 2 bell peppers, chopped
- 1 teaspoon minced garlic
- 1 tsp red pepper flakes
- 3 oz sugar snap peas, cut in half width-wise
- 1 tsp cornstarch
- 1/2 cup canned pineapple in it's own juice
- 2 tablespoons reduced sodium soy sauce
- 1 1/2 teaspoons cider vinegar
- 1/2 tsp black pepper
- 1/2 teaspoon ground ginger
- 2 packets Splenda sugar substitute
Directions:
Cut chicken into bite sized pieces. Spray a non-stick skillet with non-fat cooking spray and saute the garlic for about 2 minutes. Add the chicken and brown over medium heat. Add the carrots, bell peppers, and peas, and stir fry for about 5-7 minutes (until the carrots soften a little bit). In a small bowl, combine the soy sauce and cornstarch; mix. Pour into the skillet, along with the vinegar, pineapple, pepper, Splenda and ginger. Stir well and bring to a boil. Reduce the heat and simmer for about 1-2 minutes (until the sauce thickens). Serve over some 0 point cabbage for added crunch and aesthetic appeal.
Entire recipe makes 2 servings
Each serving = 4 Point Total
Read more:
http://www.laaloosh.com/2010/01/22/sweet-and-sour-stir-fry-chicken-recipe/#ixzz2cccBl2vo
I fear this may be more work than it's worth, but I've got to give it a try.
This is mostly a one pot meal, though I think I'll also make some rice. I have some brown basmati rice that I think I'll cook in chicken stock and add garlic, ginger, and green onion to the mix.
Dessert
Lemon Bars. Pucker up! The way I make these, they are deliciously tart.
Lemon Bars – 3 Point Value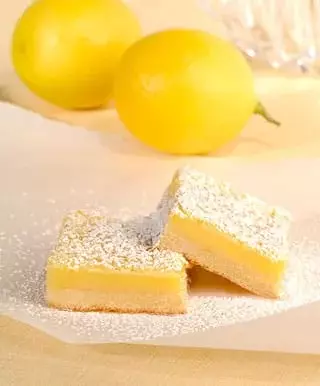 Weight Watchers Lemon Bars Recipe
Ingredients:
- 1 1/3 cups all-purpose flour
- 5 tbsp packed light brown sugar
- 8 tbsp unsalted butter, cold, cut into 1/2-inch pieces
- 4 large eggs
- 1/2 tsp vanilla extract
- 1 1/2 cups powdered sugar, divided
- 3/4 cup fresh lemon juice
- 2 tsp lemon zest
Directions:
Preheat oven to 350°F.
To make crust, mix flour and light brown sugar using a food processor until fully incorporated. Toss butter into flour mixture and pulse to combine using short bursts of power until butter is cut into tiny pea-sized pieces and dough appears lumpy. Sprinkle crust mixture onto an ungreased 13 X 9 X 2-inch baking pan as evenly as possible; press down with a spatula to create a packed surface. Place crust in middle of oven and bake until golden, about 20 minutes.
Meanwhile, to make lemon topping, beat eggs in a medium bowl with an electric mixer until well blended. Add vanilla extract and 3/4 cup of powdered sugar; mix well. Add lemon juice and remaining powdered sugar; mix until powdered sugar is completely dissolved and then add zest.
As soon as crust is finished, remove from oven and reduce oven temperature to 300°F. Immediately pour lemon mixture over hot crust. Bake completely, about 30 minutes; cool, and cut into 24 bars. Yields 1 bar per serving.
NOTES: The crust must be HOT when you pour on the lemon mixture.
You'll need approximately three lemons to yield the amount of juice and zest in this recipe.
You can increase the lemon flavor of these bars by adding more zest or eliminate the zest altogether for a less tart taste. You can also change the flavor completely by subbing fresh lime juice and zest for the lemon.
Serving size is 1 Lemon Bar
Each serving = 3 Weight Watchers Points
The only change I make is that I use .25 to .5 cups of lemon zest. 2 tsps is nothing! This is the third or fourth time I've made them and they are really, really good. Very decadent tasting. I thought about making a blueberry sauce to serve with them, but really, why? I've got fresh berries to go alongside.
So this is what I'm making for dinner. How 'bout you?
Happy Cooking!